motivation: Seeking Justice
wealth:
Savings:
Cash On Hand: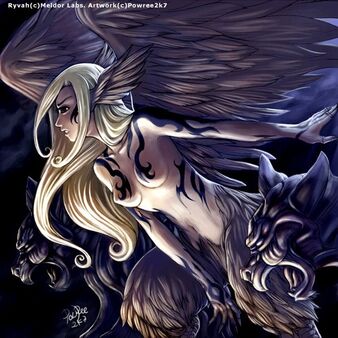 Occupation: Student
Place of Business:
Base of Operation: Cohen School
Group Affiliation:
Place of Birth: Greek
Character type: Harpy
Handedness: ambidext
Height: 6'1
Weight: 165
Hair Color: Blonde
Eye Color: Brown
Disposition: Mischievious... vicious when crossed
Age: 16
Blood Type:
Identity:
Race: Harpy
Romantic Interest: none
Marital Status: single
Sex: F
Sexual Orientation: Straight

Attributes:
Dextarity:
Strength:
Body:
Intelegence:
Will:
Mind:
Influence:
Aura:
Spirit:

Inititive:

Powers:
Flight
Extended Hearing
Full Vision
Mind over Matter
Regeneration
Super speed
Claws: hands and feet

Skills:
Acrobatics
Martial Artist
Charisma: Intimidation, Seduction
Thief
Military Science

Advantages:
Ambidex
Attractive
Connoisseur
Genius
Longevity
Lightning Reflex
Mystic Background
Prehensile Feet
Sharp Eye
Scholar: Martial Arts
Scholar: ASL

Disadvantage:
Strange Appearance: talened fingers, eagle talon feet, feathered legs, feathered ears.
Age: young
Arch enemy x4
Psychological : Can't eat unless stealing food from someone else.
Mistrust
Public Identity
Berserk Rage: When people steal things from her.