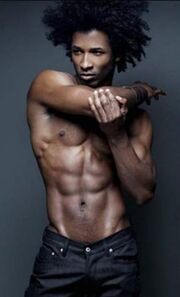 Name: Ramses
Alter:
Created: 02/08/2016
Motivation: Upholding the Good
Occupation: Guardian
Height: 6'3"
Weight:  250
Hair: Tawny
Eyes: Blue
Build:  Lean muscular
Personality:  Laid Back
Race: Sphinx Felinoid
Gender: Male
Blood type:
Orientation: yes?
Handedness:  Right
Nationality: African
Date of Birth: forgotten it was so long a go
Place of Origin: Nile river basin
Group Affiliation:
Base of Operations:
Legal Status: none
Marital Status: Single
Romantic Interest: Colleen?
Marriage Date: N/A
Known Relatives:  none
ATTRIBUTES:
DEX:
STR:
BOD:
INT:
WIL:
MIN:
INF:
AUR:
SPI:
Initiative:
Wealth:
POWERS

SKILLS

ADVANTAGES:

DISADVANTAGES:
Ad blocker interference detected!
Wikia is a free-to-use site that makes money from advertising. We have a modified experience for viewers using ad blockers

Wikia is not accessible if you've made further modifications. Remove the custom ad blocker rule(s) and the page will load as expected.