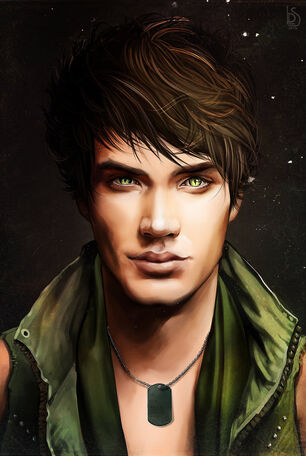 Name: Pact        
Alter: Salvatore Vega
Player:DJ      
Created: 4/13/15 Ht:5'11"  
WT:185lbs
Hair:Black  
Eyes: Green and slitted
Dex:7            Str:6            Body:9
Int:7            Will:13            Mind:9
Inf:13            Aura:13            Spirit:13
Init:29            Wealth:9        HP:
POWERS
Mimic(DemonicPowers)13* Recall:14** DimensionTravel(DemonRealms)13* Magic Sense:13* Magic Field:13* Awareness:13* Flame Immunity:9* TrueSight:13* Notes: Mimic and Truesight mystic linked*

SKILLS
Occultist:9 Weaponry:7* Thief:Stealth7* Scientist:7* Charisma: 13* Artist:(act,write,paint)13*
Advantages:
Attractive, L.Reflexes, Iron Nerves, Sharp Eye, Gift of Gab, Proficient in the Rythmns of Life, Mystic Background, Misc: Immune to Controlling powers, unless summoned as a demon. Ritual Discipline: Demonology, Scholar: Infernal Knowledge, Scholar: Theology
Disadvantages;
Arch Enemy x4, Mistrust, Age-young(18) Dark Secret: Son of Jeff Vega and Succubus -2cs vs Holy Powers, Minor Hatred: Full Demons -2cs vs Control from Summoning, Cata Mannerism: Flirty/Obnoxious Serious Fear: Angels, Serious Attraction: Porn to distract from bad thoughts Catastrophic Fear: Losing control of self to Demonic Half.
Ad blocker interference detected!
Wikia is a free-to-use site that makes money from advertising. We have a modified experience for viewers using ad blockers

Wikia is not accessible if you've made further modifications. Remove the custom ad blocker rule(s) and the page will load as expected.