Name: Rick Mazzick *Midas*
Alter ego: Rick Mazzick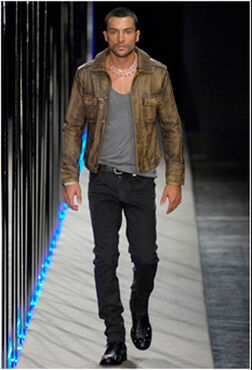 Wealth: 12
Savings: 14 million
Cash on Hand: 5k
Ht: 6ft1
Wt: 178lbs
Hair: Brown and very short
Eyes: Hazel (light green)
Disposition: Detached and bored
Character Type: Mysticmutant
Bloodtype: whatever he wants
Place of Birth: Athens, Greece
Place of Business: calls Boston home
group affiliation: "super" school in ireland
romantic interest: Kerri Williams
Sexual Orientation: Hetero
Handedness: Left

Attributes
Edit
Dex:7
Str:3
Body: 4
Int:13
Will: 11
Mind: 9
Inf:11
Aura:13
Spirit:13
initiative: 44
Wealth: 12

recall: 15
Superspeed: 13*(mental link) reflexes and data process only)
Transmutation: 26*DL
Matter Manipulation: 22*DL

Occultist: 11*
Scientist: 13*
Gadgetry: 13*
Detective: 13*

Advantages
Edit
Attractive,
Gift of Gab,
Conniseure,
Mystic Background

Serious Mannerism: Distracted/Aloof,
Arch Enemy x4,
Cata attraction: Challenging adult's intelligence
Traumatic Flashbacks,
Guilt,
Catastrophic Rage: Triggered when stumped by a problem or question
Serious hatred: those who kiss his ass in hopes of getting cool stuff made by his abilities
Misc: Constantly thinking about some new doodad or puzzle

Ad blocker interference detected!
Wikia is a free-to-use site that makes money from advertising. We have a modified experience for viewers using ad blockers

Wikia is not accessible if you've made further modifications. Remove the custom ad blocker rule(s) and the page will load as expected.