Lucianna Marquese
Edit
Alter Ego:
Motivation: Thrill of Adventure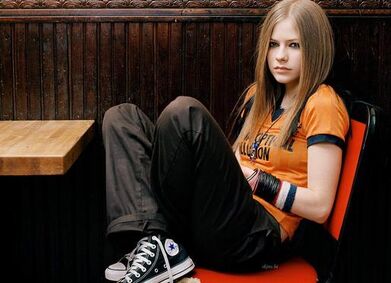 Wealth: 10 (1M)
Occupation: Punk Rocker
Savings: 500K
Place of Business: Bars across the world
Base of Operations:
Date of Birth:
Place of Birth: Colorado
Character Type: Mutant
Romantic Interest: Dominic
Groups Affiliation: None
Handedness: Right
Height: 5'6"
Weight: 125
Hair Color: Blonde
Eye Color: Blue
Disposition: Rebelious
Age: 18
Blood Type: o+
Cash on Hand: 150
Race: caucasian
Marital Status: single
Sex: female
Sexual Orientation: bi

Song Inspirations
"Sk8ter Boi" by Avril


Attributes:
Edit
Dextarity: 9
Strength: 7
Body: 7
Intelegence: 5
Will: 9
Mind: 5
Influence: 9
Aura: 9
Spirit: 5

Inititive: 25
Edit



Air Walking: 9
Running: 9
Object Awareness: 9

Acrobatics: 9
Artist (Dancer, Musician, Writer): 11
Charisma (Intim, Persuasion, Seduction): 9
Survival (Urban): 9
Weapondry (Exotic, Firearms): 11

Advantages:
Edit
Attractive
Lightning Reflexes
Iron Nerves
Popularity
Scholar: Skateboarding
Gadget: Skateboard


Disadvantage:
Edit
Arch Enemy x4
Guilt
Mistrust
Public Identity
Age Young (18 years old)
Serious Irrational Fear (Loving and not having it returned)
Catastrophic Irrational Sexual Attraction (Sk8ter Bois)
Catastrophic Mannerism (Rebel)
Catastrophic Irrational Hatred (Authority Figures)
Catastrophic Irrational Fear (Being used)

Sk8tbrd Gadget:
AV:4, EV: 6, Hardened Body: 11, Removable, Reliable: 0,
Lightning: 12
Stretch: 1
Ad blocker interference detected!
Wikia is a free-to-use site that makes money from advertising. We have a modified experience for viewers using ad blockers

Wikia is not accessible if you've made further modifications. Remove the custom ad blocker rule(s) and the page will load as expected.