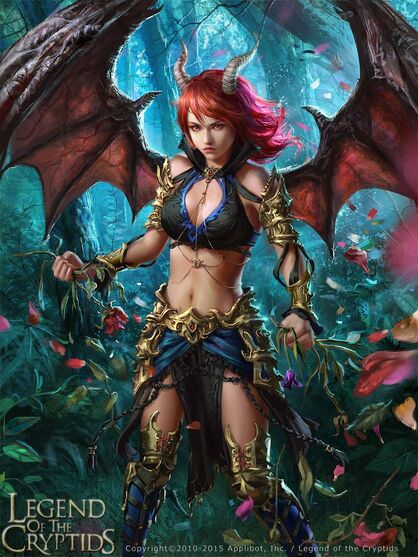 Name: Kumo
Alter: Kokabiel, Kimber Deous
Created:
Motivation:
Occupation: Freeloader
Height: 6'0"
Weight: 200
Hair: Red w/black streaks
Eyes: Solid silver
Build: Muscular w/curves
Personality:  Serious but inquisitive
Race: Diablian/Aracnoid/human
Gender: Female
Blood type: Blue
Orientation: Straight
Handedness:  Yes
Nationality:  American?
Date of Birth: not important
Place of Origin: Fourth Level of Hell
Group Affiliation: Snake Slayers
Base of Operations: Mt St Helens
Legal Status: U.S. Citizen?
Marital Status:  Single
Romantic Interest: Siam, Hagen
Marriage Date: N/A
Known Relatives: Azzy (dad), Web(mom), Ollie(bro), Jerico(half-bro)
ATTRIBUTES:
DEX:
STR:
BOD:
INT:
WIL:
MIN:
INF:
AUR:
SPI:
Initiative:
Wealth:
POWERS

SKILLS

ADVANTAGES:

DISADVANTAGES:
Ad blocker interference detected!
Wikia is a free-to-use site that makes money from advertising. We have a modified experience for viewers using ad blockers

Wikia is not accessible if you've made further modifications. Remove the custom ad blocker rule(s) and the page will load as expected.