Name: Kerry Williams
Alters:
Motivation: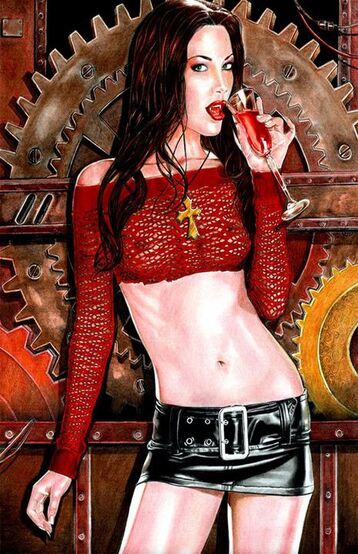 Apparant Age: 17
Legal Status: US Citizen
Height: 5'10"
Weight: 150
Wealth: 7
Savings: 5K
Hair Color: red
Eye Color: green
Build: lush
Bloodtype: O+
Disposition: serious
Place of Business: New Orleans Vampire Night Club
Job: Night Club Owner
Base of Operations: School for the Gifted
Date of Birth: November 14, 1987
Place of Birth:Spokane
Character Type: Mutant/ ex-Vampire
Race: caucasian
Marital Status: single
Marriage Date: n/a
Known Relatives: None
Romantic Interest: Rick Mazzick (Patrick)
Sexual Orientation: Bisexual
Handedness: Right
Groups Affiliation: None

Songs
"Hot" by Avril

Dex: 11
Str: 9
Body: 11
Int: 9
Will: 11
Mind: 7
Infl: 12
Aura: 12
Spirit: 7
Initiative: 34
Wealth: 3

Powers
Awareness: 12*
Broadcast Empath 11*
Empathy 11*
Mind Blank 7*
Sprit Travel 3
Remote Sensing 18**
Regeneration 11*
Teleportation 11*
Extended Hearing 8
Invulnerability 11*
Memory Manipulation 11

Skills
Acrobatics (gymnastics) 11*
Chrisma(Interr, Persuas) 12*
Detective 9*
Martial Artist 11*
Medicine (first aid) 9*
Scientist 9*

Advantages:
Area Knowledge: Neighborhood [10],
Attractive [15],
Gift of Gab [20],
Insta-change [5],
Leadership [25],
Popularity [20]

Drawbacks:
Arch Enemy x4,
Age: Young,
Mistrust,
Secreat Identity,
Uncertenty,
Catostrophic Irrational Fear (not being good enough),
Catastrophic Irrational Attraction (bad boys),
Catastrophic Irrational Hatred (stupidity),
Catastrophic Irrational Fear (rejection),
Authority Figure.

Ad blocker interference detected!
Wikia is a free-to-use site that makes money from advertising. We have a modified experience for viewers using ad blockers

Wikia is not accessible if you've made further modifications. Remove the custom ad blocker rule(s) and the page will load as expected.