Alters: Catarina Giovanni-Boivin
Character Type:Vampire
Motivation: Mercenary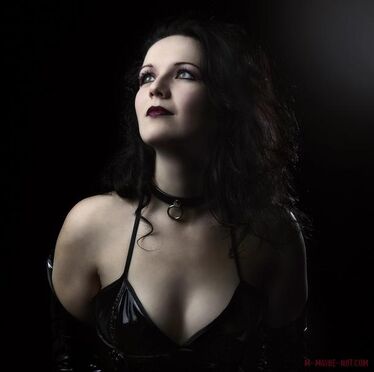 Occupation: Black Bishop
Legal Status: None
Wealth: 9
Savings: Lots
Height: 5'6"
Weight: Last person to ask died
Hair: Black with Blue Highlights
Eyes: Green w/gold
Build: Athletic
Disposition: Brash
Bloodtype: yes please
Place of Birth: London, England
Date of Birth: long ago
Group Affiliation: Hellfire Club
Base of Operations: Hellfire Club London
Race: Caucasion
Marital Status: None
Marriage Date: N/A
Known Relatives:
Romantic Interest:
Sexual Orientation: Hetero when interested
Handedness: Right
Date Created:

Attributes:
Edit
Dextarity: 11
Strength: 9
Body: 11
Intelegence: 7
Will: 7
Mind: 7
Influence: 9
Aura: 9
Spirit: 9
Inititive: 31


Animate Dead*9
Control:12
Exorcism:11
Lifesense*Undead & Ghosts*7
Vampirism*no range*9
Iron Will 14
Mind Blank 14
Speak with Ghosts*7
Spirit Travel*9
Magic Blast:12


Charisma*9 -seduction
Martial Artist*11 -weaponry
Occultist:16
Theif*11
Weaponry*11 -heavy
Artist*9 +Actor, Dancer, Photographer
Medicine*7


Advantages:
Edit
Area Knowlege: London, England
Lighting Reflexes
Scholar: Necromancy
Sharp Eye
Scholar: Dirty Tricks (streetfighting)
Scholar: Anatomy


DisAdvantages:
Edit
Archenemy x 4
Secret Identity
Catastrophic Mannerism: playing with dead things
Dark Secret: Vampire
Fatal Vunerabilty: Sunlight
Catastrophic Attraction: Causing Pain
Magician's Code
Serious Physical Restriction: Deep Sleeper
Serious Mannerism: Will not feed off of Children
Serious Mannerism: Playing up her accent
Serious Mannerism: acting Brash





Dex:0
Str:0
Body:1
Int:2
Will:2
Mind:4
Infl:2
Aura:2
Spirit:4
Initiative:4
Spirit Travel: Self Linked Always On: 1
Blending: 4
Recall: 8
Theif: Stealth: 6
Sharp Eye
Ad blocker interference detected!
Wikia is a free-to-use site that makes money from advertising. We have a modified experience for viewers using ad blockers

Wikia is not accessible if you've made further modifications. Remove the custom ad blocker rule(s) and the page will load as expected.