motivation:
wealth: 14
Savings: millions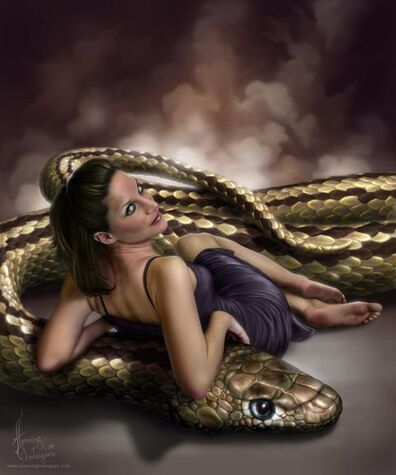 Cash On Hand:
Occupation: Fight Club Promoter Socialite
Place of Business:
Base of Operation: Moscow
Group Affiliation:
Place of Birth: Moscow
Character type: Mutant, snake changer
Handedness: left
Height: 5'7
Weight: 140
Hair Color: dark blonde
Eye Color: green
Disposition: mysterious
Age: 29
Blood Type:
Identity:
Race: Caucasion
Romantic Interest:
Marital Status: single
Sex: F
Sexual Orientation: bi

Attributes:
Dextarity:
Strength:
Body:
Intelegence:
Will:
Mind:
Influence:
Aura:
Spirit:

Inititive:

Powers:
Claws
Radar Sense
Extra Limb: Fangs
Speak with Animals: Snakes only
Skin Armor
Shape Change: Python snake (partial change)
Systemic Antidote
Regeneration

Skills:
Martial Arts
Acrobatics
Animal Handle
Charisma
Spy


Advantages:
Attractive
Connoisseur
Gift of Gab
Scholar: Fight Clubs

Disadvantage:
Arch Enemy x4
Guilt
Mistrust
Public Identity

Ad blocker interference detected!
Wikia is a free-to-use site that makes money from advertising. We have a modified experience for viewers using ad blockers

Wikia is not accessible if you've made further modifications. Remove the custom ad blocker rule(s) and the page will load as expected.