Alter Ego: Erica Little
Motivation: Responsibility of Power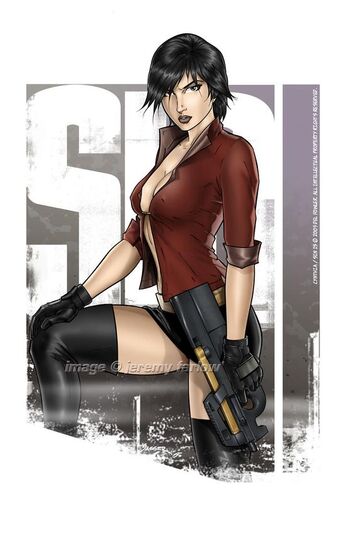 Wealth: 7
Occupation: Electronic Specialist
Savings: 2K
Place of Business:. Dallas, Tx
Base of Operations:Little Electronics
Age: 22
Place of Birth: Dallas, Tx
Character Type: Human
Romantic Interest:
Groups Affiliation: None
Handedness: Ambidextrous
Height: 5' 6"
Weight: 135
Hair Color: Black
Eye Color: Brown
Disposition: Serious
Blood Type: AB-
Cash on Hand: 500
Race: caucasian
Marital Status: single
Sex: female
Sexual Orientation: straight

Attributes:
Dextarity: 7
Strength: 5
Body: 7
Intelegence: 11
Will: 7
Mind: 9
Influence: 9
Aura: 7
Spirit: 5

Inititive: 27
Powers:
Gadgetry: 13
Superspeed: 10 (hands, thoughts, reaction speed only).

Skills:
Scientist: 11
Charisma (Persuasion Only): 9
Medicine (First Aid and Forensic): 11
Detective (Clue Analysis, Counterfieit recignition, Id Systems): 11
Weaponry: 10


Advantages:
Ambidexterous
Attractive
Genius
Intensive Training
Iron Nerves
Steady Hands
Scholar: Gadgetry making
Scholar: utilizing seemingly unuseful items
Headquarters: Expansive


Disadvantage:
Arch Enemy x4
Authority Figure
Guildt
Innocent
Mistrust
Traumatic Flashbacks
Uncertainty
Serious Manerism (idly making gadgets out of normal everyday items)
Cat Mannerism (repaying people for things taken)
Cat Sex Attraction (Genius Males, blonde hair blue eyes)
Cat Irration Fear (Not being able to make something when needed)
Public Identity
Ad blocker interference detected!
Wikia is a free-to-use site that makes money from advertising. We have a modified experience for viewers using ad blockers

Wikia is not accessible if you've made further modifications. Remove the custom ad blocker rule(s) and the page will load as expected.