Name: Electra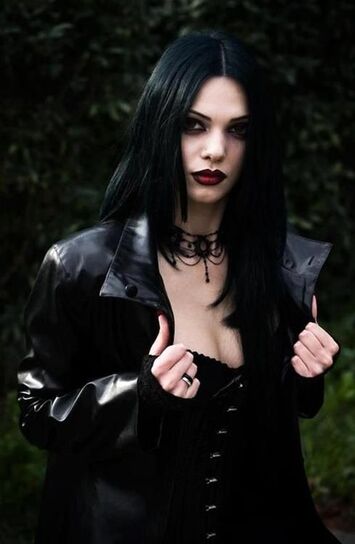 Alter: Amber Mintz
Player: Kennidee
Created:12/23/15
Motivation: Anti Hero Thrill of Adv
Occupation: Unemployed
Height: 5'8"
Weight: 148lbs +25 for bracelet
Hair:  Black
Eyes: Gray
Build: Fit/Lean
Personality: Mischievous
Race: Caucasian 
Gender: Female
Bloodtype:
Orientation: Hetero
Handedness:Ambi
Nationality: American
Date of Birth: 5/3/94
Place of Origin: Alternate Reality earth
Group Affiliation: Sabryx' group
Base of Operations: Berlin, Germany
Legal Status: Really weird
Marital Status: Single
Romantic Interest:
Marriage Date:
Known Relatives;
DEX: 9 STR: 6 BOD: 9
INT: 9 WIL: 16 MIN: 9
INF: 7 AUR: 9 SPI: 7
Initiative: 25
Wealth:
POWERS:
Magnetic Control: 16*
Metal Manipulation: 16*
Radio Communications: 9*
Detect Metals: 9*
SKILLS:
Thief: 9*
Gadgetry: 9*
Weaponry: 9*
Charisma: 7*
Artist: 7* (Sculpt, Dance)
Acrobatics: 9*
ADVANTAGES:
Attractive, Gift of Gab, Sharp Eye, Iron Nerves, Lightning Reflexes, Ambidexterity
Scholar: Stealth, Metalurgy, Jeweler, 
BRACLET: R#3 [Body]: 15 Shrinking: 9(AO), Stretching: 5, Extra Limb x8: 13Claws: 13, Reflect/Deflect: 10 (Dis):Cannot hide from metal detectors
DISADVANTAGES
Arch Enemy x4, Mistrust, Secret ID, Dark Secret: Former Gang Affiliation
Dark Secret: Protection Program, Traumatic Flashbacks, Guilt, Serious Mannerism: Mischieveous
Minor Attraction: Hot Rocker Guys, Serious Mannerism: Overconfident
Forced Exile: Home Reality, Misc: Mistaken Identity (This realities Electra)
Ad blocker interference detected!
Wikia is a free-to-use site that makes money from advertising. We have a modified experience for viewers using ad blockers

Wikia is not accessible if you've made further modifications. Remove the custom ad blocker rule(s) and the page will load as expected.