Name:  Ceren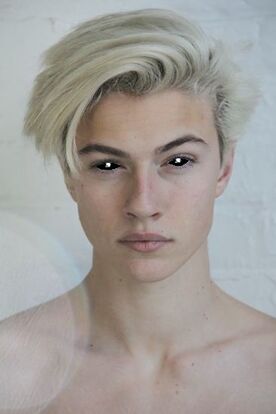 Alter: Kizer Dupet
Player: DJ (NPCish)
Created: 1/27/17
Motivation: Anti Hero Resp. Of Power
Occupation: Freedom Fighter
Height: 5'10"
Weight: 190lbs
Hair: Plat Blond
Eyes: Black w.Silver pupils (no whites)
Build: Stocky
Personality: Morbid Humor
Race: Mutant Lupinoid
Gender: Male
Bloodtype:
Orientation: Hetero
Handedness: Both
Nationality: 
Date of Birth: 8/6/2000
Place of Origin: Ukraine
Group Affiliation: none
Base of Operations: Ukraine region
Legal Status:
Marital Status: N/A
Romantic Interest: None
Marriage Date:
Known Relatives; Father (the Clown), Mother (Lupin No Moon, Russian)
DEX: 10
STR: 11
BOD: 9
INT: 7
WIL: 11
MIN: 9
INF: 7
AUR: 7
SPI: 5
Initiative: 28 (34)
POWERS
Split: 10*(APs don't reduce), SL Fog: 9*, Claws: 10*, Telepathy: 1 (Unlim Range, Dupes only)
Shapechange: 11* (Wolfen/Hybrid only), AS/TS: 7*, Detect: Powers: 14**
Neutralize: 11*, SL Chemical Power: 11*, Syst Antidote: 9*, Sealed Systems: 10
SKILLS
Acrobatics: 10*, Martial Artist: 10*, Military Science: 7*, Thief: 10*, Medicine: 7*(First Aid)
Survival: 7* (Urban)
ADVANTAGES
Attractive, Sharp Eye, Iron Nerves, Lightning Reflexes, Ambidexterity, 
Scholars: Chemical Weapons, Breaking Holds and Clinches
Scholar: Euro Block Languages, English, Chinese (Cantonese)
DISADVANTAGES
Arch Enemyx 4, Mistrust, Public Id, Dark Secret: Bastard son of the Clown, Age: young (16)
Serious Psychological: Schitzophrenic, Traumatic Flashbacks, Catastrophic Fear: The Clown
Serious Fear: Any Terrordrome Circus Folk, Serious Mannerism: Morbid curiosity, 
Serious Attraction: Cute Weird Girls, Catastrophic Psychological limitation: Incapable of feeling guilt or regret if not tied to someone he is emotionally invested in.
Ad blocker interference detected!
Wikia is a free-to-use site that makes money from advertising. We have a modified experience for viewers using ad blockers

Wikia is not accessible if you've made further modifications. Remove the custom ad blocker rule(s) and the page will load as expected.