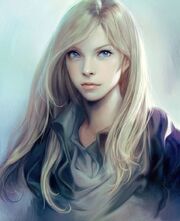 Name: Cassidy Singin
Alter: Spaz-Stik
Created: 06/2017
Motivation:
Occupation: Student
Height: 5'9
Weight:
Hair: Blonde
Eyes: Blue
Skin: Lt. Tanned
Race: Human
Build: Slender
Personality: Serious
Gender: Female
Blood type: Strange
Orientation: Hetero
Handedness: Both
Nationality: American
Date of Birth: unknown
Place of Origin: unknown
Group Affiliation: The Lost Generation
Base of Operations: The Cradle
Legal Status: Minor
Marital Status: Single
Romantic Interest: N/A
Known Relatives: Cassidy Monroe (father) Zoe St. John (mother)
Short Bio:  To Cassidy's knowledge she is an orphan who has spent her entire life in and out of foster homes and orphanages. That all changed when one night she and some friends snuck into a bar. Unknown to them Dagen Perth was also in that bar for a business meeting as well as a crew of human traffickers that had target the young ladies. Only to be foiled by Mr Perth who had taken interest in the rapidity of Cassidy's thoughts. Dagen managed to link Cassidy's abilities and appearance to her missing parents.
Cassidy is a tall slender young woman, very much build for running. Long blond hair and her mother's bright blue eyes she usually dresses in old military camo gears with worn sneakers.
Ad blocker interference detected!
Wikia is a free-to-use site that makes money from advertising. We have a modified experience for viewers using ad blockers

Wikia is not accessible if you've made further modifications. Remove the custom ad blocker rule(s) and the page will load as expected.