Name: Cardiac Jones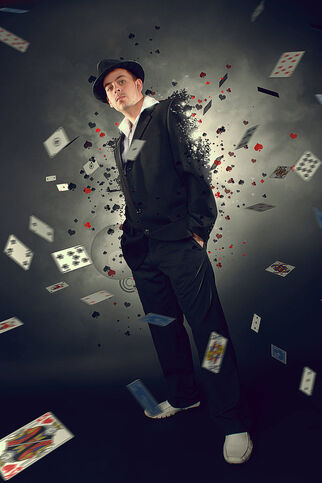 Alter: Frederick Mancinni
Player: DJ
Created:
Motivation: Thrill of Adventure
Occupation: Bar Manager
Height:6'1"
Weight: 185lbs
Hair: Dark Brown
Eyes: Hazel Green
Build: Lanky/Wiry
Personality: Witty
Race: Caucasian
Gender: Male
Bloodtype: B-
Orientation: Hetero
Handedness:Both
Nationality: American
Date of Birth:
Place of Origin: Las Vegas, Nevada
Group Affiliation:
Base of Operations:Midnight Bar, NY
Legal Status: US Citizen
Marital Status: Single
Romantic Interest: Where to begin
Marriage Date: Hah!
Known Relatives; Mercy.. Sort of.. It's weird.
DEX: 10 STR: 5 BOD: 6
INT: 10 WIL: 13 MIN: 10
INF: 7 AUR: 7 SPI: 7
Initiative: 33 (43) Wealth: 
POWERS SKILLS
Mimic: 16 (Powers and Skills) Martial Artist: 10*
Flame Project: 10** Acrobatics: 10*
Mind Blank: 10* Weaponry: 10*
Iron Will: 13* Charisma: 9
Recall: 10* (Martial Arts styles) Artist:(actor, dancer, writer)7*
Common Mimics: Thief: 10*
Superspeed, Adrenalin Rush, Skin Armor Vehicles: 10* (land)
Jumping, Telepathy, Energy Absorb, 
Detective, Medicine
ADVANTAGES
Attractive, Ambidexterity, Lightning Reflexes, Sharp Eye, Iron Nerves, 
Reflex Reaction: Mimicking Martial Art tricks of opponents
Lucky, Scholar: JKD, Acrobatic Fighting, Kicks, Card Tricks
Rich Family/Friends
DISADVANTAGES
Arch Enemy x4, Mistrust, Public ID, Dark Secret: Thought to be Dead
Guilt, Traumatic Flashbacks, Cata Attraction: Dressing from the 30's
Serious Attraction: Cards and Card Tricks, Minor Attraction: Showing off
Serious Attraction: Attractive Volumptous Women, Serious Hatred: People who mistreat Women & Children.
Minor Rage: When someone *cheats* a fair fight